Facts & News
Rodolfo Arruabarrena is the new manager of Al Rayyan SC.

Roldofo Arruabarena penned a  one-year deal with Qatar giants Al Rayyan.
The Argentinian coach is familiarized with the region, after working  between 2017 and 2018 in Al Wasl SC (Dubai). In 2018 Rodolfo led Al Wasl to 2 Cup finals and was 3rd in UAE League.
Rodolfo hopes that he can help the team reach its goals and fight to win all competitions in the season 2018-2019.
5 of July 2018
Full article: www.gulf-times.com
———————————————————————————————
Argentinian winger Menendez seals loan deal with Al Rayyan
The talented Argentinian attacker signed a one-year loan deal with Al Rayyan. The argetinian is recognized as a very talented player with big potential. Most recently played in Talleres Cordoba and in CA Independiente.
Al Rayyan has the option to acquire the player rights and make is stay in Al Rayyan permanenent.
 The Argentinian will wear the shirt number 14 of the Lions.
8 of August 2018
Full article: https://thepeninsulaqatar.com
———————————————————————————————
Carlos Carvalhal is the new coach of Swansea City
Soon after leaving Sheffield Wednesday, Carvalhal becomes the new manager of Swansea.
The 52 years old Portuguese coach has the task of avoiding the relegation of the Welsh team. In the last two and half seasons Carlos Carvalhal proved himself in Sheffield Wednesday, achieving two consecutive promotion playoff.
His team's great performances and football quality called the attention of many clubs across Europe. Eventually he decided to embrace a strong challenge in one of the best leagues in the world.

28 of December  2017
Full article:  http://www.independent.co.uk
———————————————————————————————
Saudi Arabia appoints Juan Antonio Pizzi
The Saudi Arabia Federation unveiled the new head coach that will lead its football team in the World Cup.
The Argentinian coach previously worked in Valencia and in Chile national team, where he won the Copa America 2016 and reached the 3rd place in the Confederations Cup 2016.
28 of November 2017
Full article: http://www.fifa.com
———————————————————————————————
 Montenegro international midfielder signs with FC Famalicao
Deni Hocko announced the Montenegro midfielder Deni Hocko. Deni, born in 1993 and played for all youth national teams of Montenegro.
In the last four seasons played for the Champion of Montenegro, Buducnost FK. His last two games with his previous team were the UEFA Champions League qualifiers against Partizan Belgrade.
Deni Hocko is the new center midfielder of Famalicão FC.
21 of July  2017
Full article:  http://www.record.pt
———————————————————————————————
 Jhonder Cadiz signs with Moreirense FC
The young venezuelan striker Jhonder Cadiz signed with Moreirense FC, Portuguese first division club.
After two seasons in Portugal, the Venezuelan signs for his third team hopping to score many goals help his team to achieve the desired goals.
30 of June  2017
Full article:  http://www.dominiodebola.com
———————————————————————————————
Al Baten Club hire Quim Machado as new head coach
The Saudi Arabia based club Al-Baten appointed Quim  Machado as the new head coach. After its first season in Saudi Premier League which ended with a 14th place, Al Baten brought the Portuguese coach to ensure a calmer season.
The Portuguese coach bring with him experience of First and Second Division clubs from Portugal. He also coached in Poland and Hungary.
24 of June  2017
Full article:  http://www.record.pt/
———————————————————————————————
 Breitner is the new number 10 of Leixões
Breitner da Silva, Brazilian playmaker is the new player of Leixões. With the ambition of staying in top spots of II Division Leixões signed a most wanted player.
After two season in Uniao Madeira, the 28 years old Brazilian starts a new adventure with the aim to help him team to achieve its goals.
12 of June  2017
Full article:  http://www.record.pt
 ———————————————————————————————
 Gian Martins in FC Pacos Ferreira
Gian Martins is the new number 88 of Paços Ferreira. After two impressive seasons in Uniao Madeira, the 24 years old Brazilian returns to I Division by the hand of Paços Ferreira.  
With Uniao da Madeira, Gian played 55 games and scored 1 goal.
21 of May  2017
Full article:  https://www.zerozero.pt
———————————————————————————————
Jose Gomes returns to Al Taawoun Club
Jose Gomes, Portuguese coach that did history in AL Taawoun Club when back to his old club. After two spells in Al Ahli, where he won the Saudi Super Cup) and in Baniyas (UAE), Jose Gomes decided to return to a club that he knows very well and that gives him conditions to perform a good job.
Jose Gomes finished the previous season with Al Tawoun in 4th place, the best claissifcation in history for the club and qualified for AFC Champions League.
18 of March  2017
Full article:  http://www.record.pt
———————————————————————————————
Jose Gomes hired as Baniyas SC head coach
After a historic career with Al Taawoun FC and a spell with Al Ahli Jeddah, where he won the Super Cup, Jose Gomes is the new coach of Baniyas SC. His immediate task is to give a new motivation to the players and take the team out of the relegation zone.
Jose Gomes has three years experience in Gulf and an extensive experience in Europe in clubs such as Videoton (Hungary), Benfica , FC Porto (Portugal), Panathinaikos (Greece), among others.
24 of October 2016
Full article:  https://www.ojogo.pt
 ———————————————————————————————
Nacional hire new Venezuelan striker Jhonder Cadiz
The club Nacional da Madeira hired the 20 years old striker Jhonder Cadiz.
Cadiz played 23 games in the league last season and scored 2 goals in União da Madeira in Portugal First Division on loan from Caracas FC. The U20 Venezuelan international showed his happiness for staying in the portuguese league and to play in a great club like Nacional.
Jhonder Cadiz debuted in professional football with only 16 years old in Deportivo Petare in Venezuela and soon was given a contract from Caracas FC. In Caracas FC played over 30 matches and participated in Copa Sudamericana.
15 of August 2016
Full article : www.dnoticias.pt
———————————————————————————————
Ricardo Sa Pinto is the new coach of Al Fateh
The Saudi team Al Fateh informed that Ricardo Sá Pinto will be the new head coach for the season 2015/2016.
It is the first experience of Ricardo Sá Pinto outside of Europe. Before led Sporting Lisbon to the final of Portuguese Cup and the Semi-final of Europa and Belenenses to Europa League for the first time in the club history.
Worked as well in Red Star Belgrade (Serbia), OFI Crete and Atromitos (Greece), Belenenses (Portugal) The one time champions
5 of June 2016
Full article : www.kooora.com
———————————————————————————————
Jose Gomes appointed new Al Ahli manager
Jose Gomes was unveiled as the new head coach of Al Ahli FC.
After an amazing season with Al Tawoon, finishing 4th in the table and gaining a spot in AFC Champions League, Jose Gomes attracted attention of the biggest clubs in the region, but decided to choose the season champions Al Ahli.
Jose Gomes previously to Al Tawoon worked in Videoton (Hungary), Panathinaikos (Greece, Malaga (Spain) and FC Porto and Benfica (Portugal).
4 of june 2016
Full article :  www.goal.com
———————————————————————————————
Ronan David signs with Rio Ave FC
Rio Ave announced the signing of the Brazilian striker Ronan, 20 years old, for four and a half seasons.
The striker has 1, 95m  and was in Portugal since the beginning of the season, in AD Sanjoanense.
Before leaving Brazil, Ronan played since his 11 years old in Fluminense, passing by sub 20 Parma, Italy. He played as well in Gremio, where he started as a professional, before heading back to Europe.
20 January 2016
Full article :  www.zerozero.pt
———————————————————————————————
Juan Ramon Lopez Caro unveiled as Oman football national team coach
The Oman Football Association has announced the appointment of Spanish Juan Ramon Lopez Caro as the new head coach of the national team for a year.
Caro, who previously coached Real Madrid and Saudi Arabia, expressed his happiness, promising to do his best with the team and pledged to the people of Oman to focus completely on the squad.
Coach Juan Lopez Caro also managed the Spanish Under-21 team from 2008 to 2010.
15 January 2016
Full article :  www.timesofoman.com
———————————————————————————————
Abdullah Alhafith loaned to Hajer Club
Abdullah Alhafith joined Hajer Club on loan from Al Hilal FC, until the end of the season.
The Saudi international center back has played in Portugal between 2011 and 2013 and now joined Hajer Club to help them reach the club's goals.
Monday December 20 2015
Full article :  www.kooora.com
———————————————————————————————
Stephane Demol appointed as Hajer FC new head coach.
Stéphane Demol was unveiled has new head coach of Hajer Club. The 49 years old Belgium manager was appointed this week replacing the Montenegrin Nebojša Jovović.
This is the second spell of Stéphane Demol  in Saudi Arabia Premier League, after a fantastic run with Al Faisaly in 2014/15 leaving the team in 6th place in the table.
7 Nov, 2015
Full Article: www.kooora.com
———————————————————————————————
Hugo Viana signs with Al Wasl SC.
Hugo Viana has finally complete his move to Al Wasl SC. After an issue regarding the registration period, the Portuguese international was finally registered as Al Wasl SC player.
Jan 19, 2015
Full Article:  www.sport360.com
———————————————————————————————
Saudi Arabia appoint Lopez Caro
Saudi Arabia have replaced former Barcelona boss Frank Rijkaard with one-time Real Madrid Coach Juan Ramon Lopez Caro.
Lopez Caro has enjoyed a long career in Spanish football, taking charge of Celta Vigo, Levante and Racing Santander.
Thursday January 17 2013 
Full article : www.football-espana.net
———————————————————————————————
Al Ahli unveil Quaresma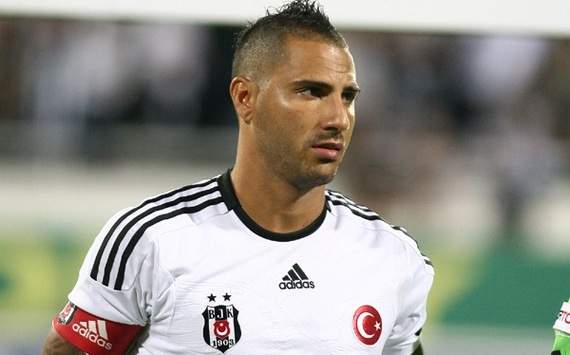 The 29-year-old, who came through the famed Sporting Lisbon academy, has played football at the very highest level; spending a season at La Liga giants Barcelona before returning to Portugal where he enjoyed a successful four years at Porto.
Jan 09, 2013
Full article : www.sport360.com
———————————————————————————————
Quique Sanchez Flores as UAE'S Best Ever
The best: Ahli desperate for Sanchez Flores to stay at the Rashid Stadium.
May 30, 2012
Full article : www.sport360.com